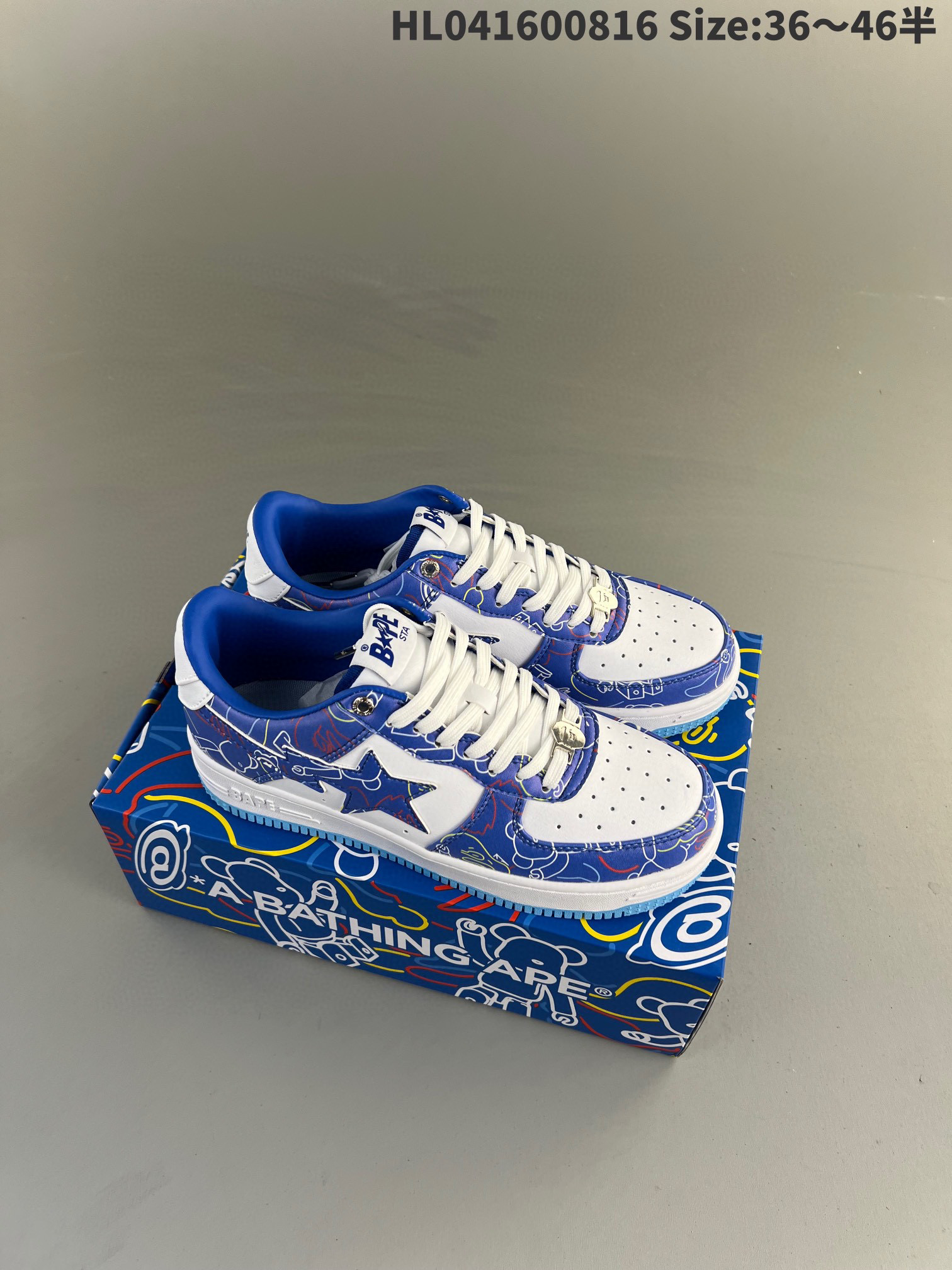 In the spring of 2021, the highly anticipated Japanese Harajuku fashion brand BATHING APE announced the official release of a new BAPE STA capsule version and an exciting range of innovative shoe designs. Alongside the iconic BAPE STA original version, the brand diversified its offerings by unveiling a variety of evolved creations. These include the BAPE SK8 STA, BAPE COURT STA LOW, BAPE BLOCK STA HI, and BAPE STA 93 HI, each representing distinct shoe styles that stem from the classic BAPE STA™ design. These adaptations cater to different occasions and fashion sensibilities.
In this transformative season, let's take a closer look at the details of the brand-new BAPE SK8 STA shoe in the "WHEAT & RED" colorway. Drawing inspiration from skateboarding shoe aesthetics, the BAPE SK8 STA series stands out with its unique characteristics. The "STA" emblem on the side of the shoe adds a striking touch, enhancing the overall design with a distinctive visual element. The shoe's upper is divided by distinct contours in different areas, using high-quality materials to showcase impeccable craftsmanship. The use of soft suede on the surface adds texture, while the rubber sole ensures comfort and ease of wear.
The devil is in the details, and this shoe doesn't disappoint. The "93" number on the heel symbolizes the year of the brand's establishment, a unique element that pays homage to its history and adds a rich fashion narrative. Additionally, the "BAPE" signature embroidery on the back of the shoe completes the design, providing the finishing touch.
Available in sizes ranging from 36 to 46, the brand-new BAPE SK8 STA shoe in the "WHEAT & RED" colorway caters to a diverse range of consumers. Beyond functionality, its exquisite design and distinctive color palette make it a standout in the realm of fashion. Whether for casual occasions or exhilarating skateboarding moments, this shoe is poised to elevate your style.
In the spring of 2021, BATHING APE presented a stunning visual spectacle. Let's follow the footsteps of this trendsetting brand and immerse ourselves in its unique fashion allure. Whether you're a seeker of the latest trends or a lover of timeless designs, the new BAPE SK8 STA shoe in the "WHEAT & RED" colorway is sure to meet all your expectations. Embrace this season by showcasing your fashion attitude and stepping into these eye-catching shoes, creating a style that's truly your own. Regardless of when or where, let the fashion prowess of BAPE accompany you.
Related products